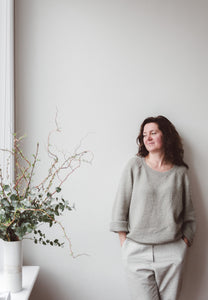 Timeless Linen
Our story with linen was born out of a need to return to the assured calm of nature, familiar connections, quality that grows with time, and beauty that is not so perfect.
Timeless Linen, like linen itself, has multiple strands. We are a weaving together of a geographic place and a living fiber.
The origin of our linen is our origin — Poland. An old country with a long history of literature and art and handcraft. A country with a rich culture.
And that culture involves linen. Linen was the stuff of our youth. It has a texture and a smell and a beauty that speaks of gracefulness, and home, and simplicity. All this from the humble flax plant, the pale-blue flowering plant you will find during summer in the European countryside.
The urge to share this piece of our cultural heritage as well as our love for this marvelous plant found its expression in our linen collections. Linen is known for its durability and strength — it sheds stains and withstands a lifetime of usage — and it is known for its unique texture. We have combined this fabric with small artisanal atelier that take our ideas and designs and make the special products you see on our web site.
It is our belief that choosing linen is a statement. It is following your heart, living in the moment, being a part of nature. When you touch linen, you are reminded to take a breath, slow down, and open your eyes.
And by choosing this natural fiber, you are the beginning of a legacy. If cared for properly, your linen will be used for a long time. For no matter what the trends are, linen is always there.

Yes, linen is timeless.

Joanna Pietrzyk,
founder of Timeless Linen